This simple Cricut project can be completed in less than 30 minutes and for under $5! It makes a great hostess or housewarming gift and is a perfect project for a beginner Cricut user or a seasoned one.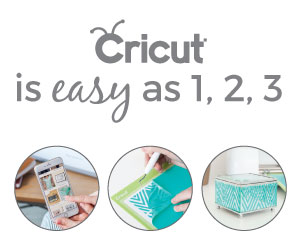 Don't you just love all of the Rae Dunn style kitchenware available in the stores? The font is so clean and classic and screams farmhouse. The farmhouse trend is a beautiful one that is definitely here to stay.
You can find a similar font to the Rae Dunn style online and use your Cricut machine (or a friend's!) to customize text for your very own slate coasters.
You will need…
Materials:
Slate coasters (about $3, available at Michaels as a set of 4, look in the wood cutout section…so random and such a great price point)
Vinyl (I used white)
Transfer tape for vinyl
A weeding tool (the Cricut one is great!)
Scissors
A Cricut machine or pre-cut vinyl text
Computer, tablet or phone with Cricut design studio
Water sealant spray
Ribbon to tie them together (if giving away as a gift)
What to do…
Cut your text design on your Cricut machine using vinyl (basically a glorified sticker), or use precut vinyl that will fit the coasters you are using. You will want to make the text large, but not so big that the letters do not have some space between them and the edge of your coaster. When I'm cutting vinyl, I usually use a sewing measuring tape to determine the best size for my cut. Pro tip: cut the vinyl to fit the size of your project before applying to your cutting mat – you don't want to waste it!
Cut the four words of text apart. Use your scissors to make some pressure relieving cuts throughout the project like in the image below (being careful not to cut into your text!). This will help you as you weed your project.
Weeding – Weeding means just like what it sounds – getting rid of what you don't want, so that you can apply the vinyl you do want! Peel back the corner of the vinyl at a 45 degree angle and work your way inwards. Be careful not to lift the text as you are peeling. You can use the weeding tool (dentist's office, anyone?! Yuck!) to remove any holes in your letters. Just poke with the tool and then pull up.
Once your text is ready, cut a piece of vinyl transfer tape to size and attach it to the front of your text. Carefully press the two layers together, then peel the backing off of your vinyl text.
If your coaster is dirty or dusty, I recommend wiping it with an alcohol wipe before applying your vinyl. The vinyl will cling best to a clean, smooth surface. Align the vinyl text where you want it on your coaster – you can measure or just eyeball it. Once it is where you want it, press down firmly. Begin peeling off the transfer tape from the corner (again, a 45 degree angle usually works best). If you find that the text is coming up with the tape, simply press the text back down and try again. It takes a bit of patience and time, especially when working with a skinny text or intricate image!
Once you have removed all of the transfer tape, press down on the vinyl with your finger to secure.
Use the waterproofing spray to seal your coasters. This will help preserve them when used with iced drinks. I usually use this spray outside in the grass (because, fumes). Allow 1-2 hours for it to fully dry.
Tie your coasters together with a ribbon and enjoy giving away!
Pro Tip: Cricut is compatible with fonts on your computer! Simply select "system" when looking for fonts in design space, and it will pull up the fonts on your computer. Dafont.com is a great resource for finding all kinds of fonts. Keep in mind that some fonts may not work as well as others, depending on how thick or thin they are. For this project, I used a font called "The Skinny" from dafont.com.
What would you make the text for your coasters to say? Have fun letting the creativity fly!
~ Kimberly