What can you do with a Cricut Maker?
The answer….SO many things!
I'll highlight just a few in this post. Honestly, the Cricut allows your creativity to truly fly. Its software is user-friendly and you can create beautiful designs that you couldn't create on a simple die-cut machine.
I've been a Cricut owner since the original design came out (the one with cartridges and all of the buttons)…and let me tell you, it has come lightyears since then!
It is bluetooth compatible, which means you can even design and cut on the go using your phone or tablet.
Let's get started on some of the types of projects you can make with a Cricut Maker (the latest model):
PAPER CRAFTS
You can design beautiful cards, scrapbook layouts, labels, gift tags, paper dolls…the options are limitless. There is also a print-then-cut option which allows your machine to cut out images printed from your color printer (bye-bye intricate scissor cuts!). I have used my Cricut to make countless classroom decorations and center activities as well when I was teaching elementary school.
VINYL
This is a big one – vinyl is basically a glorified sticker, but you can do so much with it. Label or monogram anything and everything. Vinyl can make beautiful personalized gifts and is very user-friendly once you have some practice (and a bit of patience!).
STENCILS
Using freezer paper (one side slightly adhesive and one side smooth) and the right type of font, you can create stencils for any project you dream up. I made this rug for a friend, who is a fellow Target-aholic.
IRON-ONS
Great for t-shirts and tote bags. Why pay someone a lot to make this when you can use your Cricut for this simple project?
WOOD CUTOUTS
Cut basswood or balsa wood up to 1/16″ inch. Great for signs!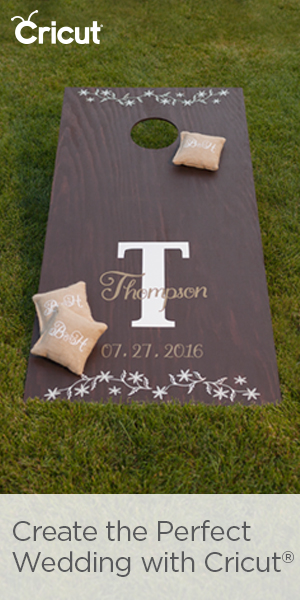 FABRIC
Yes, yes you can. Cricut Maker comes with optional fabric mats and a rotary tool, allowing you to cut pattern templates (woo hoo time saver!). Anyone up for making a quilt? This machine will dramatically cut down on the time commitment by precisely cutting your patterns for you. I have made a TON of baby bibs and burp cloths by having my Cricut cut out the shapes for me. Hands down one of the best perks of the Maker.
Ready to buy? Click the image below:
What other projects have you made with a Cricut machine? Share in the comments, below!
Check out what's on sale over at Cricut!